The SIMPLE project is an NSF-funded* project that aims to promote teaching and learning on the undergraduate and graduate level through sustainable faculty professional development. The professional development is organized in the form of Teaching Development Groups across STEM departments at George Mason University. Instructors who participate in these groups meet regularly to learn more about interactive teaching strategies, discuss their experience with implementing those strategies, and support each other in their teaching innovations. The core principles which the groups are operating on are represented in Figure 1 below.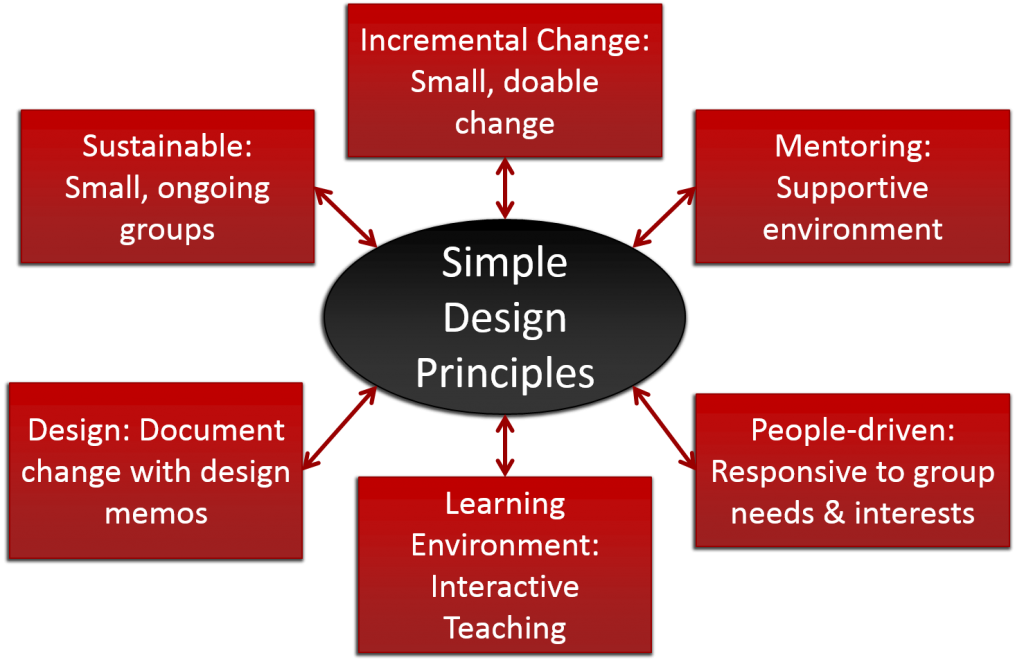 Figure 1. The SIMPLE Design principles.
Currently, Teaching Development Groups function in seven departments:
Biology and Environmental Science;

Computer Science;

Civil, Environmental & Infrastructure Engineering;

Physics and Astronomy;

Mathematical Sciences;

Atmospheric, Oceanic, and Earth Sciences;

Global and Community Health.
As an extension of the Teaching Development Groups, the project also provides its participants with an opportunity to participate in the Teaching Inquiry Group. This group is developed for the faculty interested in pedagogical scholarship, i.e. conducting research on their teaching using self-study research methodology. Dr. Anastasia Samaras is the leader of the Teaching Inquiry Group.
If you are interested in joining Teaching Development Groups or the Teaching Inquiry Group, please e-mail us at dgerasim@gmu.edu.
---
*This material is based upon work supported by the National Science Foundation under Grant No. 1347675. Any opinions, findings, and conclusions or recommendations expressed in this material are those of the author(s) and do not necessarily reflect the views of the National Science Foundation.